The TrAM project and Medstraum is announced as a finalist in the 2023 European Sustainable Energy Awards. You can vote for TrAM using this link: EUSEW Awards: World's first fully electric fast ferry.
"We´re extremely proud of Medstraum and extremely proud to be among the few finalists to win this prestigious prize. We kickstarted the future with Medstraum. We set the standard and pace for greener maritime transportation at high speed. This is being recognized worldwide", says Major Marianne Chesak of Rogaland County Council.
Rogaland County Council is one of 14 partners behind the EU-funded TrAM project which led to the realization of the zero-emission high-speed craft.
The European Sustainable Energy Awards (EUSEW Awards) highlights the success of European actions in energy efficiency and renewable energy.
Chasing zero
Medstraum has been in operation for shipowner and mobility company Kolumbus, on the west coast of Norway, since September last year.
"We´re dependent on fast ferries in Norway. We had only a few fast ferries in operation before Medstraum, still transportation at sea accounted for 56 percent of our region's public transport emissions. With Medstraum in daily zero-emission operation, we´re getting much closer to reaching our goal of becoming climate neutral by 2030", says the CEO of Kolumbus, Edith Nøkling.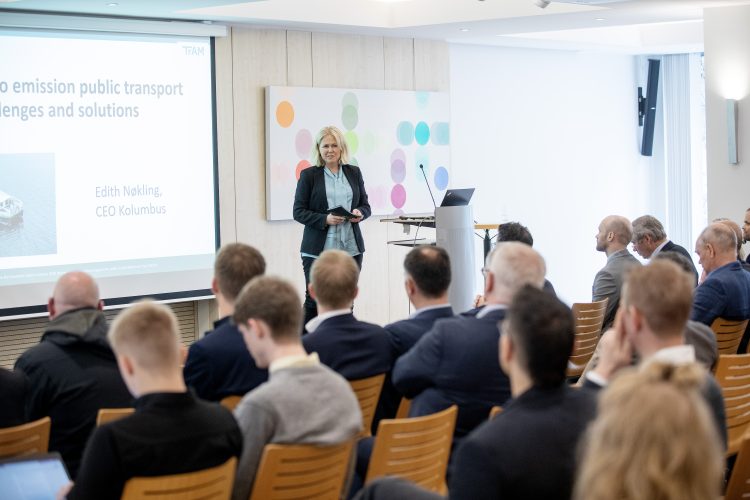 The TrAM project vessel is tailored to optimize energy efficiency. The use of low-weight aluminum has made it much lighter compared to traditional fast ferries. New hull forms and a brand-new propulsion system have made Medstraum reach speeds up to 29 knots – with only batteries on board.
Speeding up the green transition
"The modular design approach is key to the success of the TrAM project. While ships are traditionally built 'one by one', the TrAM team drew inspiration from the car industry when developing Medstraum", says Nøkling.
This allows shipowners to choose from different pre-designed hull and wheelhouse modules. The parts can be built in different yards before being put together. Modularization will reduce manufacturing and engineering costs, making building the following vessels faster and cheaper.
"The success of the TrAM project proves that collaboration across companies, borders and public and private sector are key when it comes to accelerating the green transition," says CEO of Maritime CleanTech, Ada Jakobsen.
Public voting until 11 June
The TrAM project is one of three finalists shortlisted for the Innovation category of European Sustainable Energy Awards 2023. The winner will be decided by a public vote and will be announced on the opening day of European Sustainable Energy Week in Brussels 20 June.
You can vote for the TrAM project by using this link: EUSEW Awards: World's first fully electric fast ferry.
TrAM project partners: Maritime CleanTech (NO), Kolumbus (NO), Rogaland County Council (NO), Fjellstrand (NO), Leirvik (NO), Hydro (NO), Servogear (NO), Wärtsilä (NO), HSVA (NO), University of Strathclyde (GB), National Technical University of Athens (GR), Fraunhofer IEM (DE), Uber Boat by Thames Clippers (GB) and De Vlaamse Waterweg (NL).