TrAM partners are now half-way into the project. The work on the Stavanger zero-emission fast ferry is progressing well, and construction will start in spring 2021.
In November, all project participants gathered to discuss progress and project status. Key discussion topics where progress in the different tasks and whether the project is meeting its objectives of developing new production methods for electric vessels that will lead to 25% reduction in production costs and 75% reduction in engineering hours.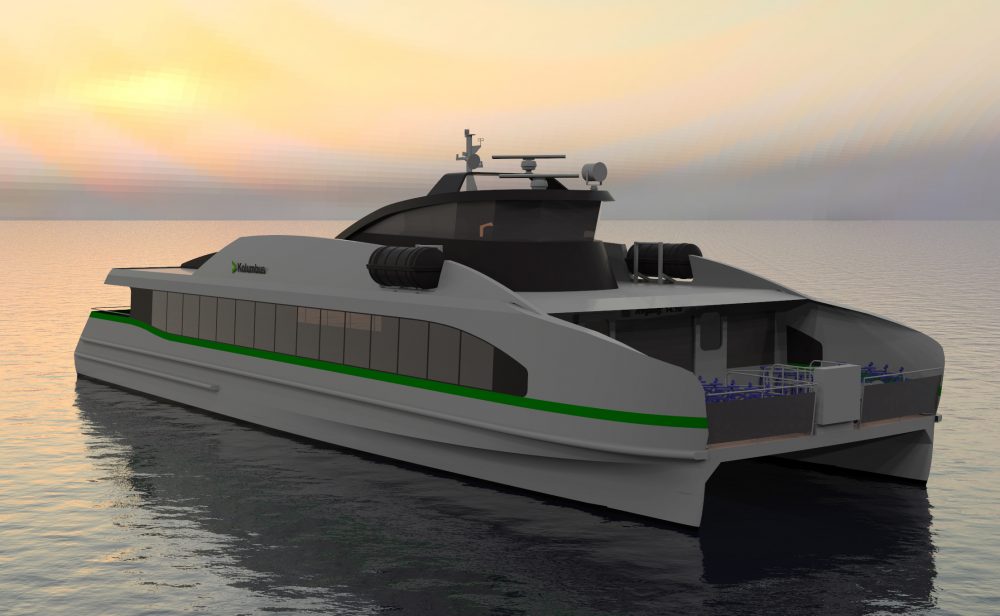 – We are on a good path towards meeting our objectives. I am impressed by the good cooperation between the partners and the high-quality deliverables submitted, Project Coordinator Mikal Dahle of Kolumbus said.
Two years into the project the participants have delivered half of the project deliverables. Six out of nine milestones are closes, such as model testing reports and modularity and production methods reports.
During the last 12 months the project has conducted model testing of the Stavanger demonstrator at HSVA's testing tank in Hamburg and completed a HAZID workshop. The project has continuous focus on sharing information with stakeholders, and TrAM has been presented on a range of seminar and conferences. In 2020 TrAM has also arranged three workshops where different projects and initiatives shared their knowledge within topics such as electric vessels, safety, and modular production methods.
Construction starts in 2021
A key part of the TrAM project is the development and construction of a fully electric zero emission fast ferry for the city of Stavanger – "the Stavanger demonstrator". A ship building contract between Kolumbus and Fjellstrand was signed in July 2020, and construction will start at Fjellstrand yard in Norway in spring 2021.
The energy system for the vessel is developed by Wärtsilä. The general design of the system is completed, with safety and energy efficiency as key focus areas. Wärtsilä has also done evaluations of shore charging systems, and this work is ongoing.
New modular production methods
There is nowadays a dominant belief that complete optimisation is the only way to design a ship. This is a result of today's extremely specified tender processes, which lead to one-off ships due to all the requirements vessel owners include in their order specifications. The TrAM project is challenging this traditional thinking by implementing modular design methods and production technologies to shipbuilding. The approach is based on the idea of supporting module identification using a consistent, domain-spanning system model.
– Modularisation is an established methodology from other industries (e.g. automotive or aviation), providing the necessary instruments to solve the contradiction between individuality and standardisation. By developing modular product architectures, it is possible to combine single modules that adapt the product to individual customer needs or boundary conditions, says Dr.-Ing. Christoph Jürgenhake, Group Manager Integrated Mechatronic Systems at Fraunhofer IEM, the research institute that is leading the work on modularisation within the project.
The main objectives of the work are to develop a modular ship design concept and to define what modules are applicable for high-speed vessels. TrAM will also look at how the modules developed should be produced.
– In the first half of the project, we have gathered information amongst other from data collection, analysis of system requirements and through expert interviews. We have defined the macro modules that will be the starting point for the sub-systems integration. Next, we will develop a platform architecture that can later be adapted to different use cases, Jürgenhake says.
What is next?
The production of the Stavanger demonstrator vessel will start in Q2 2021 and the final order for charging infrastructure will be placed in Q1 2021. Commissioning will start in February 2022, and the vessel will be delivered to customer Kolumbus in March 2022.
The TrAM project will now also intensify the partners work with two replicator cases for London and the inland waterways in Belgium. The use cases will have different requirements than the Stavanger demonstrator, for example when it comes to speed, deck height, vessel draught and shore side infrastructure. These replicators will be developed to explore opportunities for similar zero emission vessels in other routes in Europe.