Today in London, there is a growing focus on improving air quality with the introduction of new regulations and strategies for traffic both on road and sea. In the EU project TrAM Thames Clippers is looking into electric operation to consider how to become greener and more operationally efficient in the future.
In recent years, several initiatives have been launched to improve air quality in London, such as the ultra-low emission zone for road traffic in the city centre and the Port of London Authority's  Air Quality Strategy for the tidal Thames.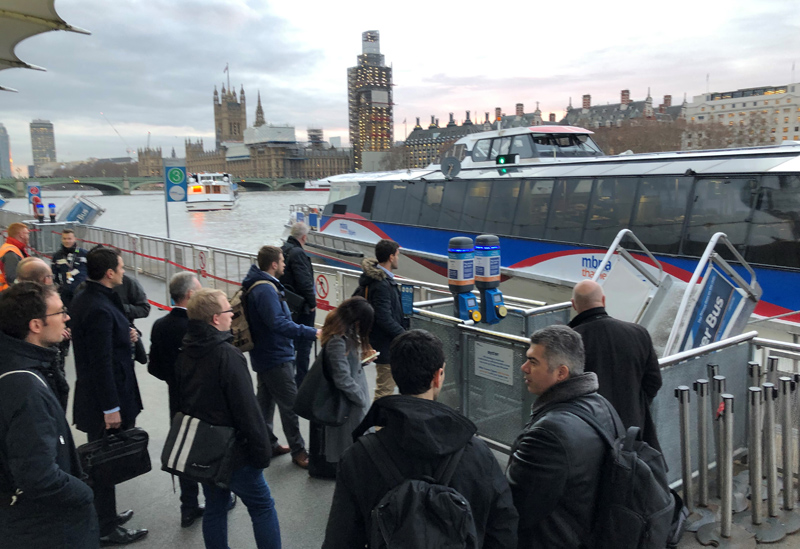 Each year Thames Clippers transports over 4 million commuters and tourists up and down the River Thames in London. The operator runs six routes and a high frequency of departures from key London piers 363 days a year.
Since the start in 1999, the Thames Clippers service has moved from a one-boat service to operating a fleet of 20 vessels connecting passenger to their homes, places of work and river-side attractions. The company has always been a leader within change and innovation and minimising emission is high on the agenda.
"For some time, we have been seeking to deliver a hybrid electric solution but until the last 18 months, the technology has not been a viable option for high speed crafts. Being part of the TrAM project provided us with the opportunity to explore the current capability of electric batteries for our type of multi stop service", says Chief Operating Officer of Thames Clippers, Geoff Symonds.
In 2019 the TrAM project was awarded 11.7 Million Euros from EU's Horizon2020 research programme to develop an electric high-speed passenger vessel to operate between Stavanger and Hommersak on the west coast of Norway. The project will also conduct two studies for the same type of vessel in London and the inland waterways of Belgium to explore opportunities for similar zero emission vessels on selected routes. The London case is Thames Clippers' main River Bus Route 1 between North Greenwich and Westminster.
"This is a multi-stop route operating 18 hours a day with an end to journey time of 60 minutes, so it represents a real test in terms of operational range and layover down time between runs. If the TrAM demonstrator can be used in such an operating environment it will provide comfort that the current technology is transferrable and indeed a viable option for our operating environment", Symonds explains.
Eco-friendly operations will be the norm
Today cities around the world have an ever-increasing demand for public communication. In these areas, environmentally sustainable solutions are encouraged to reduce the local pollution. Consumers are also increasingly understanding the impact of pollution on human health and the environment. Accordingly, they are demanding more transparency in everyday products and services.
"The drive for sustainability is rewriting the rules for all industries. We believe green operations will be the norm in 10 years times and it will be a customer expectation rather than just a competitive advantage", Symonds says.
The TrAM project is just one of the initiatives the company currently has ongoing. Thames Clippers has also released their plans to introduce a fully electric pedestrian and cycle ferry cross river between Canary Wharf and Rotherhithe. The London Mayor's ambition is to achieve this by 2023. On the high-speed routes the company plans to reduce emissions in a staged way to ensure service reliability is maintained.
This staged development has commenced with exploring retrofitting options on the current fleet and for the next vessel new build the company aim it to be at least a diesel electric solution. The medium-term aim is to continue to minimise emissions via hybrid options and Thames Clippers see diesel electric as being a steppingstone towards potentially a hydrogen fuel option in the long term.
Through the TrAM project Thames Clippers will get the knowledge needed to make this transition in terms of operational and technical intelligence to aid the development and design of future high speed and cross river vessels.
"As a business we want to do our bit and indeed a fully diesel operation will not be fully sustainable in the long term. Land transport is moving away from diesel options so marine should follow as soon as it is practical and viable to do so", Symonds says.

The TrAM H2020 has received funding from the European Union's Horizon 2020 research and innovation program under grant agreement No 769303.